PIZZI

™

– 3D concrete elements in Paris…. …….

Finlandia & marble
↓
↓
↓
lower on page ↓↓↓
Mr. Risku was a member of Partek Dimensio™ team. During years 1987-1992 Risku created several architectonic examples of 3D concrete elements and components.
Pizzi™ series was a collection 3D elements to replace normal sandwich elements. The elements were "plotted" with 3D "printer" of efficient tooling size 3 x 6 x 2 m³. The plotter carved the mould out of artificial clay and casting happened with fiber concrete of high strength (K120).
The Dimensio™ R&D program ended year 1994 and the machinery were used by Pertti "Spede" Pasanen to carve out moulds for his innovative glass fibre boats.
Later the high strength K120 fibre concrete was used e.g. in canoes, as well as in some details in Reima Pietilä's library Metso in Tampere Finland.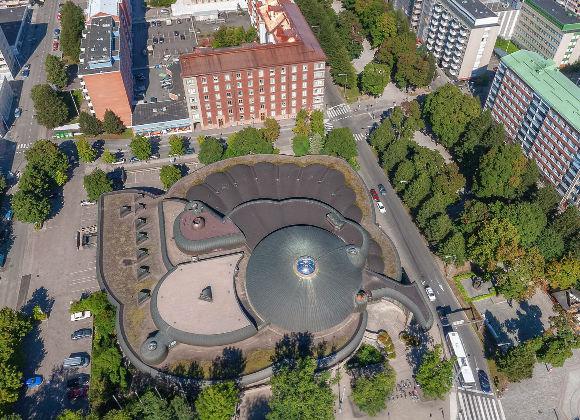 ______________________.______________________
PIZZI

™

,  Paris 1992
Maison Blanche, Paris 1994
Maison Blanche, rue Blanche Paris 9ème, proposal 1994, Juhani Risku, architect SAFA, Atelier Risku Paris ARP
Maison Blanche was a plan to use Dimensio 3D technology in relief surfaces. All elements in this building are different: the basic form is rhombus, added with 3D relief figures, windows and cast iron details.
Article about fibre concrete in Rakennuslehti (in Finnish).
_________________________________________________________________________________________
Finlandia House needs a new exterior – Marble to be replaced with concrete + gold
Finladia House is one of the most important building of Alvar Aalto. Unfortunately the facade looks like the white Finnish parrot G. Pula-aho.
Finlandia House from year 1971: need for new facade in 1998 and 2019. The Carrara marble dos not fit thew Finnish conditions, because marble is very soft like wet powder dryed in a paper bag. Finland is of hard magma stone, granite, not of Parrot Feather Italian Powder "Stone".
    At last we have a splendid possibility to renovate the facade with concrete and gold. During the late 80's and early 90's a company called Partek developed thin prestressed concrete panels Palazzo, RATI and Dimensio.
    These concrete panels are still high-tech: prestress need specific techniques, different colors and sizes are possible, durability is ensured, and concrete is cheaper than marble.
    In the Finlandia House case, the price of cheaper concrete can be fine-tuned with gold dust to the price of Italian Carrara marble. This way we would get a precious Aalto building with golden facade and millions of tourists would flock around it so that new hotels should be built.
    When combining hard strength concrete, fiber concrete and prestressed concrete to Finlandia House facade panels, the set requirements are achieved. By the same time these high-tech methods can be revitalized and a new alternative for durable and scalable concrete facades is created for architects.
    When the new Palazzo, Dimensio and Rati are used in quality buildings, gold, silver and other precious dusts can highlight the importance, cheaper than powder stones like marble.
    Golden facade is good for Finlandia House, and Alvar Aalto. He was a playful and creative architect. Now a new concrete technology is needed.
4th of Feb 2019
..                ………
architect, acoustician, designer
Links